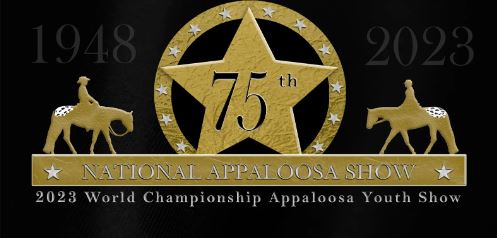 June 28 – July 5, 2023
Location: Oklahoma City Fairgrounds
3001 General Pershing Blvd,
Oklahoma City, OK 73107
2023 National/Youth World Show Results/Schedules
2023 National/Youth Show Newsletters

2023 National/Youth World Show Forms
2023 National/Youth Show RV Information
RV – South Lot & West Lot – first come, first serve. Facility does not accept advance reservations.
North lot – Reservations available to yellow stall sponsors only. Reservation forms will be mailed from ApHC to those eligible. 
2023 National/Youth World Show Sponsorships
2023 National Show/Youth World Show Class Entry Forms
2023 National/Youth World Show Webcam
Cowboy Way Trading Post - Vendor Information
2022 National/Youth World Show Results
2023 National/Youth World Show Sponsors
Stateline Tack
When you shop with State Line Tack, you'll receive 30% off your order PLUS we will donate 7% back to your club!

Official Merchandiser of the Appaloosa Horse Club. Order your Official ApHC merchandise and custom clothing and accessories for the Appaloosa enthusiast at www.tiogaterritory.com Tioga Territory is the ONLY place to get your Official "Appaloosa Pro Collection" merchandise.