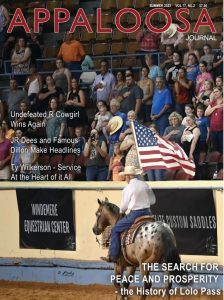 Official Publication of the Appaloosa Horse Club
In 1946, Appaloosa Horse Club co-founder and Executive Secretary George Hatley began printing Appaloosa News, a single-page, mimeographed newsletter, which rapidly grew into a professional magazine that topped 100 pages in the 1960s. Appaloosa News became Appaloosa Journal in January 1987.
Since then, the magazine — one of the longest-running, award-winning equine breed journals in the world — has been a full color publication serving the members of the Appaloosa Horse Club and equine enthusiasts. Appaloosa Journal reaches readers in all 50 U.S. states and in more than 23 countries throughout the world, both in print and online.
Appaloosa enthusiasts are as unique and versatile as
the breed they love. They compete in nearly every discipline available, from dressage
to mounted shooting. The pages of Appaloosa Journal are a showcase of the many
trends and styles our readers love, and a perfect example of what our readers are so
passionate about—color, style, versatility and beauty.