World Championship Appaloosa Youth Show
2021 World Championship Appaloosa Youth Show
Nearly 70 classes are held at the annual World Championship Appaloosa Youth Show, which is held in conjunction with the National Appaloosa Show. Competition includes classes such as halter, game events, pleasure classes and equitation classes.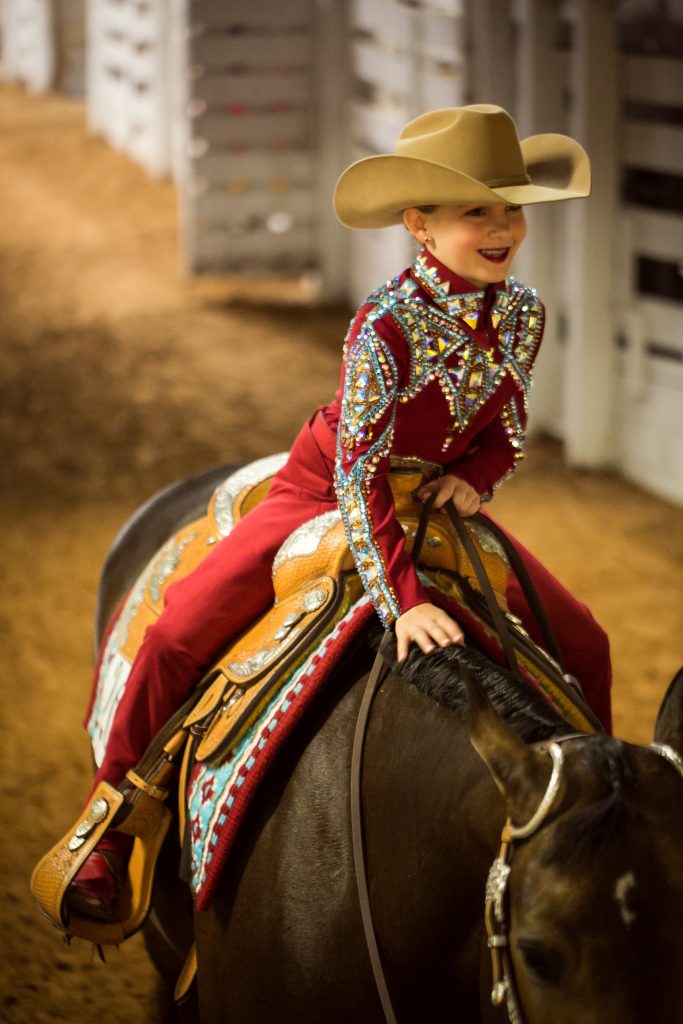 Interested in brushing up your equine judging skills? The Youth Horse Judging Contest is held each year at the World Championship Appaloosa Youth Show in conjunction with the American Jr. Paint Horse Association
Team Spirit/Sportsmanship Award
A Team Spirit Award will be given to the Team exhibiting the most Team Spirit/Sportsmanship in the Parade and throughout the Youth World Show.
When the show is over and the stress is relieved, Team Tournament participants get to sport their team colors and parade down the center of the main area. Team spirit, along with consideration of the team's sportsmanship is taken into consideration for the Team Spirit Award. It is given to the team that is enthusiastic and spirited while remaining kind, helpful, and supportive to show competitors, spectators, and staff.
Boot Scramble: Sunday July 25th from 9:00 am- 9:30 am $5.00 per team entry fee
Wheel Barrow Race: Sunday July 25th from 11:00 am- 11:30 am $5.00 per team entry fee
General Meeting/ Ice Cream Social: Sunday July 25th from 1:00 pm- 1:30pm
Egg Toss: Sunday July 25th from 1:30 pm- 2:00 pm $5.00 per team entry fee
Dog Races: Sunday July 25th from 5:00 pm- 5:30pm $5.00 per team entry fee
Waterpark Day: Tuesday July 27th Youth 12 & Under from 4:00-6:00 pm and Youth 13-18 7:00-10:00pm $10 per youth entry fee at Safari Joes
Online Scavenger Hunt
Get Spotted: Post a photo of a team/ team member with an appaloosa. One picture per day, post must have the team name with the #ayateamchallenge
Monday July 26th: Team Decorating
Tuesday July 27th: Beach Day
Wednesday July 28th: Denim Day
Thursday July 29th: Breyer/ Chocolatey Day
Friday July 30th: AYA Blue Day
Saturday July 31st: State Theme
Sunday August 1st: Team Challenge Parade