There are 80 regional clubs nationwide. Regional clubs are local clubs across the nation that are officially recognized representatives of the Appaloosa Horse Club. They are groups of people who get together for the common purpose of riding and being involved with Appaloosas. These clubs have many interests including showing, trail riding, riding in parades and participating in the many disciplines that the versatile Appaloosa horse can adapt to. Whether it is cattle events, reining, cutting, jumping, trail riding or pleasure events that you're interested in, there is a regional club near you who can assist you in becoming involved.
The 2020 Appaloosa Horse Club Board of Directors has moved to suspend the requirement of ApHC Rule 400 D 4-6 for regional club activities for the year 2020 due to COVID 19 restrictions.
Rule 400 D:
4. Submit with Annual Report a meeting summary or minutes of at
least one (1) regional club membership meeting conducted during
the prior calendar year.
5. Submit regional club's income statement from prior fiscal year.
6. Submit a list of regional club activities during prior calendar year which must include at least two activities from the following list:
a. Sponsor or co-sponsor an ApHC-approved show.
b. Sponsor or co-sponsor an ApHC-approved trail ride that may be open to Appaloosas only or to all breeds.
c. Host a clinic for local or regional horse enthusiasts.
d. Promote the regional club and the Appaloosa breed at a local, regional or state equine expo.
e. Other (regional clubs may list annual activities other than those listed above). Those listed under this category should promote the Appaloosa breed and/or serve as a membership or volunteer drive for the regional club. ApHC reserves the right of final approval of events to ensure regional club compliance with this rule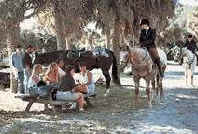 Important Deadlines to Remember:
It's time to mark your calendars for annual deadlines for ApHC Chartered Regional Clubs! As a quick reminder, remember these important deadlines:
January 31

 – Exemplary Regional Club Submissions due
February 15 – Regional Club Annual Report due
August 15 –

Deadline for World Show Regional Club Nomination & qualifying Results for Shows held Prior to August 1

September 5 – Corrected/updated membership list due and Deadline for World Show Regional Club Nominations & Qualifying Results for shows held Aug. 1-31
Challenged Horsemen and Appaloosa Competition for Independent & Supported Exhibitors (CHAPS)
How To Manuals: The following forms can be used as a guide to assist Regional Clubs in the process of putting on a Horse Show or Trail Ride.
SPREAD THE WORD ABOUT APPALOOSAS with free downloadable promotional materials! The Appaloosa Horse Club has a variety of informative brochures, posters, and fliers available for Regional Clubs to print and pass out at events such as trade shows, horse shows, and county fairs. Pre-printed materials are no longer available. Go to the download page by clicking here