Register your Appaloosa—protect the past, the present and the future.
Registering your Appaloosa preserves your horse's unique and vital place in the history of the Appaloosa breed. When you register your Appaloosa with the ApHC, you receive a certificate of registration that provides official recognition of your horse's identity and documentation of your horse's place in Appaloosa history. Registering your Appaloosa ensures that your horse's unique name will never be repeated, and allows you to order a pedigree to trace your horse's parentage.
Registering your Appaloosa is an investment in your horse's future. In addition to increasing the value of your horse, registration ensures that you, and any future owners, will be able to show and breed your Appaloosa if you choose to do so.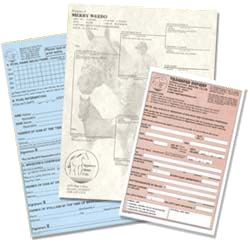 In addition to preserving your horse's past and protecting its future, registering your Appaloosa enables you to participate in the wide variety of activities available to registered Appaloosas and their owners. Whether your Appaloosa is solid or colored, registration is an important part of responsible Appaloosa ownership. Join a tradition of excellence and the growing number of proud Appaloosas owners by submitting your registration today.